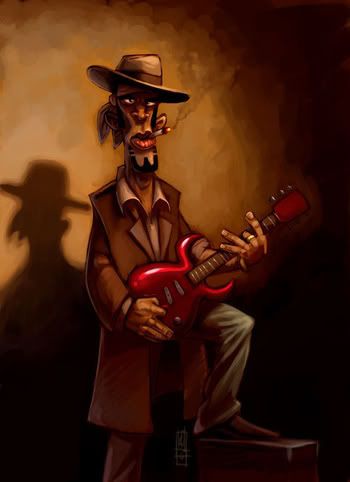 The image above is the work of artist Kenneth Anderson. Learn more about him, and see more of his work here.

Blues is foundational music. What I mean by that is that the music itself developed in several directions, but along the way, artists in other genres took inspiration from it, and made something new. Sometimes, it was a new kind of blues. Other times, it was a new musical genre. The five songs in this post represent snapshots of different points in this process. Some of these artists are certainly blues artists, while others are simply drinking from the deep well that is the blues.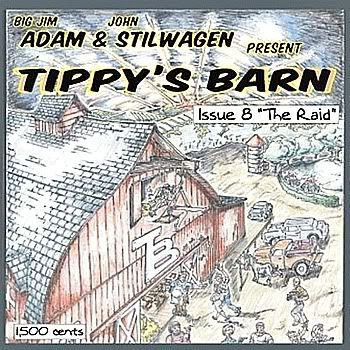 Big Jim Adam and John Stilwagen: Work Til the Sun Goes down

[purchase]

The music of Big Jim Adam and John Stilwagen is a survey of blues styles from country blues from prior to World War II to Chicago blues as it sounded in the 1950s. But these songs are not just museum pieces; Adam and Stilwagen invest each with the immediacy and emotion that great blues demands. Work Til the Sun Goes Down is an original song, just written a year ago. But, there is a type of blues, one of the earliest forms, known as work songs or field hollers. These were rhythmic songs, sung by field laborers a capella, that accompanied tasks like the hoeing heard here or the chain gangs swinging their hammers. Work Til the Sun Goes Down sounds like it might once have been a field holler, and Adam and Stilwagen have given it a haunting instrumental backing that works perfectly.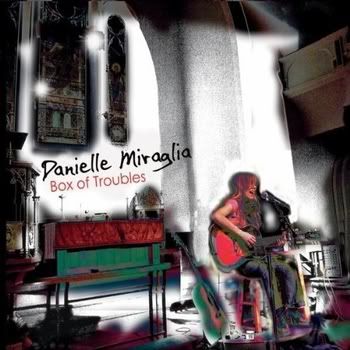 Danielle Miraglia: See the Light

[purchase]

Danielle Miraglia is a wonderful singer-songwriter. Blues is one of many ingredients in her work, and its presence is subtle. You can hear it in how she approaches her vocals, with moans and growls mixed in with the sweetness. See the Light also has some wonderful, although brief, blues licks on the banjo towards the end of the song. Some of her other songs, obviously including her version of Stagger Lee, are bluesier than this. But See the Light is a perfect example of how the blues mixes with other musical forms, and, like this entire album, it is also a fine performance.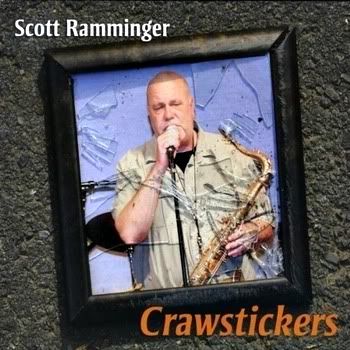 Scott Ramminger with Mary Ann Redmond: There Must Be Something Wrong With You

[purchase]

Scott Ramminger's songs come from the place where Chicago blues began to morph into early rock and roll. He also mixes in a healthy dose of New Orleans spirit. And there are even hints of country on a couple of songs. But there is never any mistaking the fact that Ramminger is a bluesman first, and a fine one. There Must Be Something Wrong With You is a slow burner, a passionate blues ballad. Mary Ann Redmond is his duet partner here, and their voices mesh perfectly. Ramminger is a sax player, so the horn parts here and elsewhere on the album are an extra treat.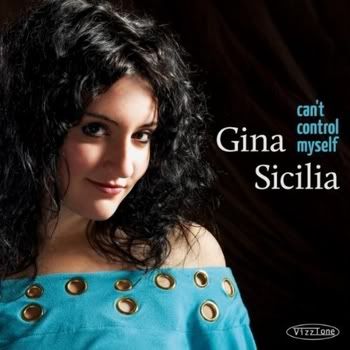 Gina Sicilia: Members Only

[purchase]

I have stated elsewhere that the music that is called R&B these days has had all of the blues stripped out of it. R&B originally stood for Rhythm and Blues, and Gina Sicilia restores the connection between the two. You can call Sicilia a belter, but only if you admit that Aretha Franklin was too. Both singers raise their voices when their emotions swell, but neither does it for show. Lyrically, Members Only is a rhythm and blues song, but the vocal is well within the passionate tradition of blues shouters. Some of the other songs here are even more in the rhythm and blues category, but the vocals come straight from the blues.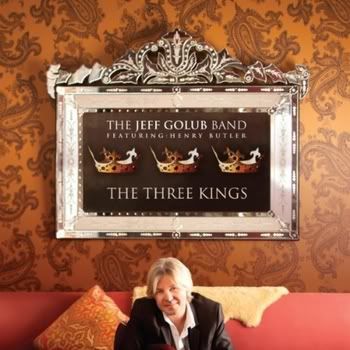 The Jeff Golub Band: I'm Tore Down

[purchase]

In his day job, as it were, Jeff Golub is a fusion jazz guitarist, somewhat in the mold of George Benson. But the album The Three Kings is something different: a tribute, with vocals on most tracks, to BB, Albert, and Freddie King. Golub hands the vocal off to others, and focuses on leading the band. This is electric blues with horns. The band is both tight and loose, in all the right ways. The songs feel like honest outpourings of emotion, with the band providing a solid frame for brief, but spontaneous-sounding solos. It's powerful stuff, as the blues should be, and I'm Tore Down is a fine example.