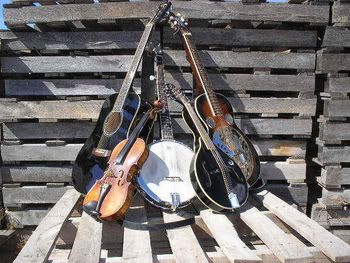 Newgrass is a term that is used to describe some of the music that is coming out these days. It is mostly acoustic music, and it uses instruments that are often found in bluegrass: acoustic guitar of course, but also banjo, fiddle, stand up bass, dobro, mandolin, and so on. That all sounds specific and vague at the same time. You can use some of these instruments and not others, and still be newgrass. You can incorporate a variety of musical influences. So I thought it might be helpful to listen to some of the different traditional musics that newgrass grew out of. Even if you, the reader, end up as confused as before about what newgrass is, I promise you some great music along the way.



Ivan Rosenberg & The Foggy Hogtown Boys: Low and Lonesome Sea

[purchase]

I am talking about musical traditions that have their origins in the American South. So it makes sense to begin our journey in Toronto, Canada. Actually, that only makes sense in the company of Ivan Rosenberg and the Foggy Hogtown Boys. Rosenberg and the Boys have set out to make an album of bluegrass as played in the 1970s, before many of the musical innovations that so muddy the waters today. But this album is no museum piece. The music sounds lively and fresh, because the musicians clearly love what they are doing, and they have the talent to back it up. The Hogtown Sessions is a mix of originals and covers. The new songs sound right at home with songs by the Osborne Brothers and Ralph Stanley. There are also old country songs here, quite successfully reimagined as bluegrass. Low and Lonesome Sea is a reminder that this music evolved from the traditional ballads that were brought to Appalachia by the areas original European settlers. The song is an old English ballad that I first heard as The Golden Vanity.



Thomm Jutz (with Caroline and Hannah Melby of Nash Street): The South's on Fire

[purchase]

The 1861 Project is a wonderful album that can function as a survey of Southern music. There is an Irish ballad here, and also two songs that represent the acoustic side of modern country, with lead singers John Anderson and Marty Stuart. In between are various strands of Southern folk, including The South's on Fire. The song is close to bluegrass, but it has some jazz flavorings that make it newgrass. The vocals are by sisters Caroline and Hannah Melby. They have their own band, Nash Street, and I checked them out in preparing for this post. I can report that Nash Street is quite good in their own right, and I hope to have more to say about them in the future.

Meanwhile, it is true that The 1861 Project could be a horrible mishmash. That it is not is a testament to the talent of Thomm Jutz. This album is his baby. All of the songs were written or cowritten by Jutz, and he performs on all of them, even taking the lead vocals on a few. The 1861 project is a collection of songs about how ordinary people got through the American Civil War, although we do meet the occasional general along the way. Jutz puts his musical mark on everything here, but his lyrics are just as important. Jutz takes people who lived 150 years ago and brings them to life in the here and now. This album has "Volume 1" in its full title. I look forward to volume 2 as well.



Robin & Linda Williams: Somebody's Someone

[purchase]

Robin and Linda Williams made their recording debut on a small Minnesota label in 1975. They made their early reputation on A Prairie Home Companion, the radio show also out of Minnesota. But they originally hail from Virginia, and their music is Southern folk, but not exclusively bluegrass by any means. Stonewall Country is another Civil War album of original songs. This one is set of music written for a stage show that tells the story of the life of Stonewall Jackson. Each song represents a different character or mood, and the music shifts accordingly. So there is a bluegrass number, a blues, and any number of songs that resist genre labeling beyond folk. Robin and Linda Williams handle all of the lead vocals, and portray all of the different characters and moods, proving themselves to be wonderfully flexible singers. My point in including this album in this post is that what is called newgrass actually includes music that is only tangentially related to bluegrass in the first place. Somebody's Someone is a beautiful love ballad, inspired by actual letters that Stonewall Jackson exchanged with his second wife during the war. Musically, it has more in common with country than bluegrass. Either way, it is one of the most moving songs on an album that is full of them.



Nell Robinson: Wahatchee

[purchase]

Nell Robinson can play and sing bluegrass as well as anyone, and she proves it here. But Robinson is not bound by it. On the Brooklyn Road is a set of songs inspired by Robinson's family history and lore, and the music moves back and forth in time with the stories. There are also pieces of oral history, spoken by Robinson's family, between some songs. The songs that tell of the earliest times are closest musically to bluegrass. Wahatchie is one of the oldest, but here something interesting happens. The song seems to be pure bluegrass, until you reach the first instrumental break. That's when you realize that you have been hearing modalities from Celtic music all along. There are touches of Southern gospel, folk, and even blues in other songs. Robinson takes all of these influences and makes at clear that they are all part of her. It's a wonderful performance.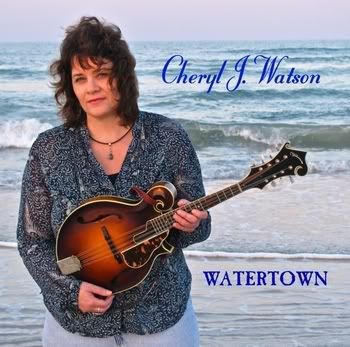 Cheryl J Watson: I'll Learn to Live With the Blues

[purchase]

Take Cheryl J Watson's album Watertown as a whole, and there can be no doubt that she is a newgrass artist. There are country and bluegrass and folk tunes here in abundance. But there are also a couple of moments that show just how far the label is being asked to stretch. One is an instrumental called Beaumont Rag, which proves to be a remarkable hybrid of bluegrass and ragtime. I'll Learn to Live With the Blues is the other. This song would be right at home in one of my posts of jazz singers. In fact, if Watson ever does a whole album like this, I would have to consider it. The thing is, as Watson presents all of these different styles, she more than does all of them justice. She shows great versatility on guitar and mandolin. In fact, she switches out her accompanists to accommodate the varying musical styles on the album, but she plays on everything. And then there is Watson's voice. She has a clear and clean tone, and she can handle the stylistic shifts with ease. Through it all, she never loses track of the emotion of each song. In short, Watson's voice is the glue that hold this wonderfully diverse album together. I have a feeling that we will be hearing a lot more from her in the future.

Call for help:



Dudley Saunders: The Rain on Eight Avenue

[purchase The Emergency Lane here]

[listen to Monster and make your donation here]

Dudley Saunders is conducting an unusual fund drive to finish his next album Novelsongs. He is offering his new song Monster as a name-your-price download. Novelsongs is a good term for what he does. In a novel, as opposed to a short story, there is time to evoke a mood and establish a character. Saunders does this beautifully in his lyrics, and he creates musical settings that compliment this beautifully. Of course, I can not offer Monster as an example, but you can stream it before you give by following the link above. The Rain on Eighth Avenue is from Saunders' previous album, The Emergency Lane, and it is a fine example of what I mean. Please help if you can. Thank you.