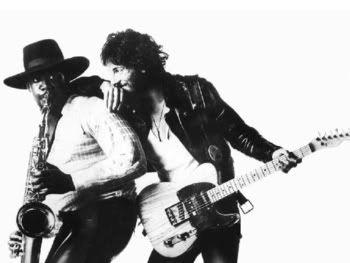 Bruce Springsteen: Tenth Avenue Freeze Out

[purchase]

It's funny how this works sometimes. I noted the passing of Clarence Clemons this past week, and I really wasn't thinking about posting anything here. I have lived in New Jersey all my life, and I was fifteen when Born to Run was released. But I never took to Bruce Springsteen with the near religious zeal that many of my fellow Jersey residents did. Don't get me wrong, Born to Run is a great album, and Springsteen is a great artist. I heard Born to Run not long after it was released, and I came to know the album well because one of my brothers bought it. But I never owned a copy, and it was the only Springsteen album that ever lived in our house.

Having said all of that, here is my post of Tenth Avenue Freeze Out. What happened? Funny you should ask. This evening, my family and I went to see some fireworks. You know how this goes, for fifteen minutes of fireworks, you get to sit through four hours of festivities, including the dreaded cover band. Actually, this one was about as good as they get, doing competent versions of everything from Disco Inferno to Honky Tonk Women. Oh, and Tenth Avenue Freeze Out. And, listening to this, I began to write a post in my head about why the original was so much better. And this is not that post.

I was going to talk about how Clarence Clemons was such an essential part of that band, that album, and that song. How Springsteen, Clemons, and the rest of the E Streeters captured the essence of rock and roll for one brief moment. But I got home and I listened to the song. Two things struck me immediately. The outstanding thing about the song and the album is not the rock and roll, but rather the soulfulness of the music. This music is heartfelt and honest, at a time when so much popular music was based on artifice. This is rock music, but the arrangement, with its use of keyboards and horns, owes a great debt to classic R&B. The other thing that struck me is about memory. I can hear in my head that big sound that Clemmons always got from his sax, squealing away solo throughout the song. But that's not how the song goes. Clemmons does his part as part of a horn section, soloing only for a few notes in the middle of the song. Over the years, the other horns had disappeared in my memory, but there they are. So now I once again know what Tenth Avenue Freeze Out sounds like for real, and it's great. But I can't guarantee that it won't change in my memory again going forward.