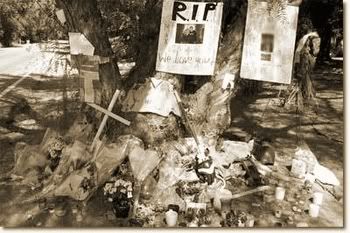 Rickie Lee Jones: A Tree on Allenford

[purchase]


Rickie Lee Jones first burst on the scene with Chuck E's in Love, an infectious bit of folk-pop that was a huge hit. But, with her second album Pirates, Jones began dismantling her popularity, while wowing the critics. I would describe her music from then on as a pop/ art song hybrid. The lyrics have been poetic, and the arrangements have sometimes stretched the usual song structures beyond recognition. The orchestrations and the use of dynamic shifts have showed Jones to be a truly original artist. Only most of this works, but when it does, the results are spectacular.

Consider A Tree on Allenford. The first thing you hear is an English horn, soon to be joined by a clarinet. Later there is a harmonica playing what almost sounds like an accordion part. So the overall sound is like a slightly off kilter cabaret song. On top of this, Jones delivers a beautiful lyric. Her narrator sees flowers left at the base of a tree, in remembrance, probably, of a child who died there. This leads to a meditation on the notion that everyone and everything is loved by at least one other person. So this is a love song, but not in the usual sense. You notice all of the unusual qualities, but they all serve the song beautifully. Rickie Lee Jones is blonde, plays guitar and piano, and is influenced by jazz music. So she got compared to Joni Mitchell a lot when she first came on the scene. By the time Jones recorded A Tree on Allenford, the comparison was clearly absurd. Instead, Jones is a true original, and one of our finest songwriters and musicians.