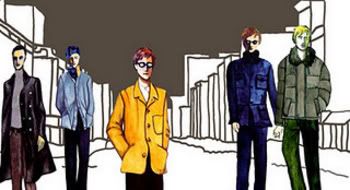 Spottiswoode and His Enemies: Chelsea Boys

[purchase]

Christmas is often referred to as the season of love. Jonathan Spottiswoode takes that to heart in Chelsea Boys. In a wonderful role reversal, he places a straight couple in the minority amidst a group of gay men. It's not a problem at all. "They won't care that you're a girl", he sings. In this season at least, love is love, and they all join in the celebration with singing and dancing.

As a bonus, this one has a beautiful video. It's an animated short, with art by the Brazilian illustrator Maria Eugenia. Eugenia has more of her work available for viewing on her blog here. She has done wonderful work for books both for grownups and children. Just make sure you have plenty of time when you follow the link, because you will want to stay a while.