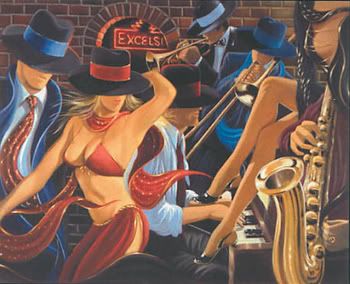 Long John Baldry: They Raided the Joint

[purchase]

I once did a post on Star Maker Machine where I tried to explain what jump blues is. But really, the best explanation comes from hearing it. Long John Baldry gives a perfect example with his version of They Raided the Joint. On the vocal, he channels the playfulness of Louis Armstrong. The arrangement is a textbook example of how to put a jump blues song together. There is great vamping on the piano throughout. The sax solo in the middle has the perfect feel. And the little statement on the trumpet at the end, with the band coming back at the very end for a single closing chord is a great dollop of sweet syrup and a dash of whipped cream on top.

I don't know the full history of the song, but I found out that there was a movie of the same name in 1947, which included a version of the song. Shortly thereafter, Helen Humes had a hit with it, with the cleaned up lyrics the Baldry also uses. In the older lyrics, the narrator hadn't been drinking at all; instead, they were high, probably on marijuana.