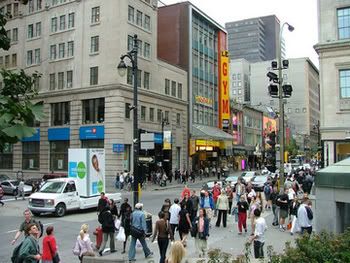 Kate and Anna McGarrigle: Complainte Pour Ste Catherine

[purchase]

Last week, our theme on Star Maker Machine was Saints. Our assignment was to post songs either about or addressed to various saints, and I immediately thought of this one. The title translates as Lament for Ste Catherine, so I seemed to be on the right track. However, since I don't speak a word of French, I thought I had better look at the translation of the lyrics as well. It's a good thing I did. It turns out that Ste Catherine is the name of a street in Montreal, (shown above), and the song is a sketch of a stroll down that street, and the people the singer met there. I can't say how good a translation I saw, since I don't speak the language, so I would welcome more information from my French-speaking readers. So, it didn't fit our theme, but it's a beautiful song. Not knowing the language, I was always drawn to the sound of it, with the light reggae feel mixed with French-Canadian folk touches, and topped with the sweetest singing you ever heard. So, here it is.

Incidentally, I recently found out that Kirsty MacColl did a cover of Complainte Pour Ste Catherine on her album Kite. If any of my readers can share that one, please get in touch or post it in the comments. Thank you.