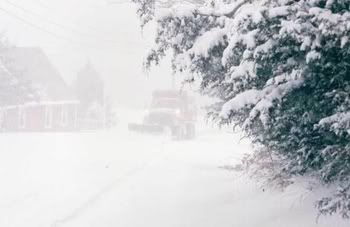 Ellis Paul: Blizzard

[purchase]

The subject of this week's For a Song post was not in doubt. I live in a part of New Jersey where we got a foot of snow last night. Today was devoted to cleaning the stuff up. (Note to Dave: I just couldn't bring myself to go out last night while it was still coming down, so I had to shovel it all today.) So a snow song was called for. I know a number of great ones, but I used some of them during our Snow week on Star Maker Machine a while back, and the rest were songs that my fellow Star Makers turned me on to then. So I had to do something I never do: I had to find a song I had never heard for this post.

I got lucky. Ellis Paul is an artist I have always heard that I ought to check out. Now I know why. I don't see much of a subtle meaning in the lyrics of Blizzard. I see a perfect description of a man alone on the road in a blizzard. Visibility is limited, so everything looks ghostly. The plows appear suddenly out of nowhere, offering brief silent company, only to disappear again. The faint glow of the dashboard lights is the only constant. Paul captures this mood perfectly. The musical arrangement is simple, just guitar, bass, and background vocals. That's all Paul needs to set the mood.

So, having found this song, I want to ask my readers for two favors. Can you offer suggestions for exploring the music of Ellis Paul further? And, does anyone know who the background singer is on Blizzard? Please respond in the comments. Thank you.

****************************************************************

Blog business: In my last post, I mentioned that Tara O'Grady is raising money to make her next album. She has only until New Year's Eve to make her goal, or she gets nothing. So she needs some combination of a lot of small donations and an angel or two. Please help if you can. Thank you.