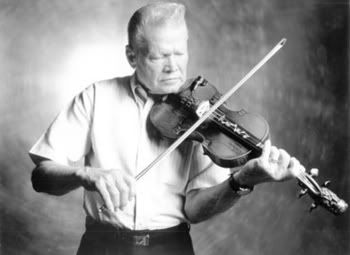 Vassar Clements: Alabama Getaway

[purchase]


First of all, my apologies to anyone who came here looking for my review of the new Mavis Staples album. Even though it was sent to me in good faith from her label, the post became a takedown.

Meanwhile, I sat down to do this week's For a Song post, and all I knew was that I was in the mood for a Grateful Dead cover. Alabama Getaway wasn't even a song that came to mind. But I went shopping in Amazon's download store, and this is what I found. Vassar Clements is not a bad choice to cover the Grateful Dead, given that Clements was once in a bluegrass band with Jerry Garcia called Old and in the Way. But that doesn't fully explain what happens here. Alabama Getaway comes from late in the Dead's career, when they had strayed far from their classic sound. The song was originally a straight ahead rocker, and a fine one. But it lacks some of the nuances that make earlier Grateful Dead songs so instantly recognizable. Vassar Clements fixes that, by turning the song into a rollicking western swing number. I can't imagine Garcia and company ever doing it that way themselves, but I think Jerry would approve. The singer here is Gwen Vaughn, and she does a fine job as well.