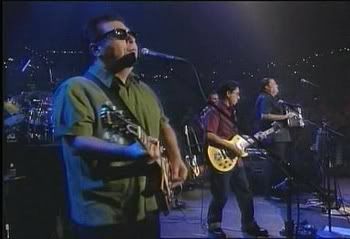 This week on Star Maker Machine, we have been telling stories of our musical discoveries. One of my posts
was about discovering the music of Medium Medium when I got to see them live. That got me thinking about some of the memorable performances that I have seen live. Some were memorable because I discovered an artist who was new to me, while others were just remarkable performances. I don't have as many of these stories as you might think. I don't get to shows very often at all any more, and even at my peak, I was not one to go to shows as often as some other people. I did get to see a lot of bar bands in my day, but most of them are long gone. That said, there are still memorable shows that are not in this post. Some I have written about before, while others may turn up in a future post. And here is an amazing fact: as much as I love their music, I never got to see the Grateful Dead live.

The recordings I used in this post are all studio versions. I wish I had good recordings from the shows I attended, but alas…

Los Lobos: Dream in Blue

[purchase]


For many years now, WXPN in Philadelphia has been putting on what they call the All About the Music Festival. It was originally called the Singer-Songwriter Festival, but it outgrew its old name. The last time I was there, Los Lobos closed out the Saturday performances. Did they ever! I knew their music already, and I think I even had an album of theirs, but that did not prepare me for their live performance. They had tremendous energy. A crowd that had been roasting all day on hot asphalt, (the festival has since moved to a more hospitable location), got up and danced unbidden. You couldn't help it. Los Lobos also stretched and reformed their songs in that performance as few bands do nowadays. Although they are not usually lumped in with the jam bands, Los Lobos certainly was one that day, and in the best sense.

Eliza Carthy: Beautiful Girl

[purchase]


The festival I mentioned above was a good one. Earlier in the day, Eliza Carthy took the stage. I knew her only by reputation at that point. She is the daughter of British folk icons Norma Waterson and Martin Carthy, and Eliza began her musical career playing fiddle on traditional songs with Waterson: Carthy, the family band. I had heard that, as a solo artist, Eliza had modernized her sound, so I was ready for something in a Fairport Convention vein, and that would have been fine. But Eliza Carthy took her vast knowledge of traditional music, and brought it into modern pop. She also has a voice that stands on its own; no reference to famous family members is needed, because she is just a great singer. But what struck me most about Eliza Carthy's performance that day was just how much she was enjoying herself. The first purpose of music is pure pleasure, and Carthy embodied it that day. It's been a few years, and I hope she still enjoys it that much. I know that I, as a member of the audience, certainly did.

Thompson Twins: Lies

[purchase]


I saw the Thompson Twins years earlier. In fact, it was at the same place that I saw Medium Medium, City Gardens in Trenton NJ. In just a few years, they be having a run of hits with Doctor Doctor and the like, and they would be too big for City Gardens, But I caught them when they were just starting to break in the United States, and before they watered down their sound. It was just three people and a bank of synthesizers, and it could have been robotic and dull, as so much synth-pop was. But the Thompson Twins sprinkled sly musical asides into their songs, and lines disappeared and reappeared. Top all of this off with what had to be the best energy level of any synth-pop band, and you had a great show. For a change, the studio recording gives a decent taste of what it was like.

Norman Blake: Last Train From Poor Valley

[purchase]


I went to see Norman Blake with some trepidation. Why was my oldest brother, who hated folk music, taking me to a folk show? Probably because Blake was a great guitar player. Coming from my brother at that time, that must have meant abstract, time-bending guitar lines, that might be hard to play, but had no emotional resonance for me. The same brother was trying to convince me of the virtues of free jazz at that time.

Of course, if you know Norman Blake's music, or if you have played the song above, you know I had nothing to worry about. Yes, Blake is a great guitar player, but his greatness is subtle. Musically, his songs sound fairly simple at first; it's only when you take them apart that you realize how intricate his finger work is. This is even more true on his instrumentals, but I have chosen a song with vocals. That's because, as much as I enjoy Blake's playing, what I discovered that night is what a wonderful storyteller he is.

Spotlight Song of the Week: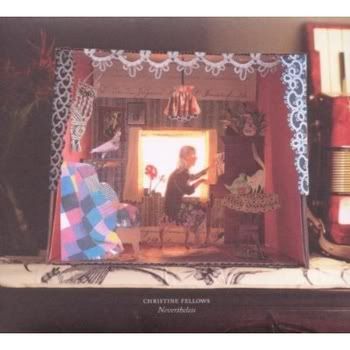 Christine Fellows: The Spinster's Almamnac

[purchase]


There are many reasons why music lovers here in the United States should pay more attention to music from Canada. Judging by the CDs that I receive, the Canadian government not only provides generous support to the artists, but also encourages cross-pollination between different artistic disciplines. The music itself can combine elements of cabaret, folk, classical, jazz, avant-garde, and pop. And often, there is a visual component as well. This could involve projections on a screen during a performance, but it could also produce music that is intended to go with a dance performance. Much of this applies to the music of Christine Fellows. Indeed, The Spinster's Almanac is one of several songs on this album that were commissioned for a dance work of the same name by Susan Burpee. And I can hear the folk, cabaret, and pop elements in this set of songs. This could be considered an album of modern day art songs, a classical concept. The other important element here is literary. Fellows is inspired particularly by the writings of Marianne Moore on the album, although this song in particular contains a reference to William Butler Yeats. Having said all of that, The Spinster's Almanac may sound fairly straightforward, but listen closely. Yes, the song maintains a consistent groove throughout, but, by the end of the song, that groove is being carried by different instruments than the ones that started it. Some of the musical surprises on this album are more startling, but the all have a certain logic. The lyrics are moving but mysterious; they certainly make an impression, but I suspect that those impressions will change over time. Both musically and lyrically, this is an album that reveals itself slowly, and will reward repeated listening generously.