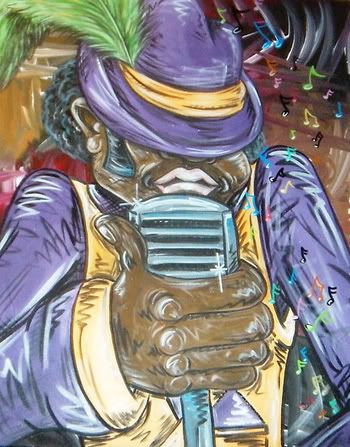 When I presented my Spotlight on Jazz Singers, I remarked that I was sure there are many fine male jazz singers out there, but I wasn't posting their music because I hadn't heard from any of them. That is still the case. I have even looked, but so far, I have had no luck. Part of the problem seems to be that men have the option of being crooners in the model of the brat pack singers. This has served singers such as Harry Connick Jr and Michael Buble well, so many more are doing it too. This does not seem to be a viable model for women, so their jazz singing is more diverse.

But the history of jazz, and of jazz singing in particular, shows that male jazz singers have many more choices than this, and can make exciting music of their own. I can prove it, which is the point of this post. This by no means a complete survey. I had to leave out many important artists, who have greatly contributed to the richness of jazz history. Still, it's a start.

Louis Armstrong: Jeepers Creepers

[purchase]

In my mind, any survey of male jazz singers must begin with Louis Armstrong. He was not the first, but he was one of the best. Armstrong brought a warmth and even a sense of humor to his vocal performances that few have ever matched.

Eddie Jefferson: Freedom Jazz Dance

[purchase]

Eddie Jefferson was a pioneer of a jazz vocal style called vocalese. He would take a particular recording of a jazz instrumental, and create lyrics for the entire song, including the solos. This could have been nothing more than a gimmick, but Jefferson's performances involved not only technical prowess, but also passionate emotional expression. So vocalese caught on, and Jefferson's disciples have included Lambert Hendricks and Ross and The Manhattan Transfer.

Jimmy Rushing with the Dave Brubeck Quartet: Blues in the Dark

[purchase]

Jimmy Rushing is often thought of as more of a blues singer than a jazz guy. And yes, he always performed blues songs. But Rushing got his start with the big bands, notably with Count Basie. When the big band era ended, Rushing carried on, singing with smaller groups, and adapting to the new musical styles in jazz. Here, we hear Rushing with the Dave Brubeck quartet, and Rushing more than holds his own.

Al Jarreau: The Nearness of You

[purchase]

Finally, we have Al Jarreau. That Al Jarreau? Yes, the only one I know. Al Jarreau was a successful hit maker as an R & B singer. He's best known for the song We're in This Love Together, and that is certainly not jazz. But Jarreau had established himself first as a jazz singer. And when his pop ship had sailed, and the hits stopped coming, Jarreau returned to singing jazz once more. The Nearness of You is a jazz standard, and Jarreau does it justice.

Spotlight Song of the Week: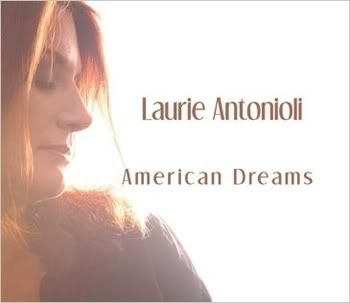 Laurie Antonioli: Just a Dream

[purchase]

I continue to receive albums of fine jazz singing, and the artists continue to be female. The latest example to come my way is Laurie Antonioli. The album is American Dreams, and the songs are mostly originals. Antonioli writes the words, and uses a number of cowriters for the music, most notably Fritz Pauer. Antonioli and her collaborators create songs that sound like standards. There is a lush romanticism in the words and melodies that belongs to a different, more innocent time. And Antonioli's performances make it work. These songs wind up sounding classic, not dated. Antonioli shows impressive technical ability, but more than that, she believes in those songs, and the honest emotion comes through on each song. Just A Dream is a fine example, just one of many found here.