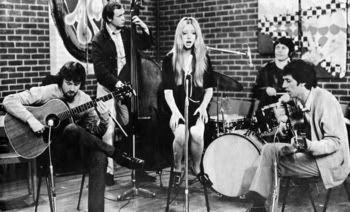 Pentangle: A Maid That's Deep in Love

[purchase]

Probably, most people who got into British folk-rock in the 60s heard Fairport Convention, were blown away, and went looking for more. They soon found Steeleye Span, and only later if at all did they find The Incredible String Band and Pentangle. But I had to be different. I found Pentangle first, specifically the album Cruel Sister. The first song on the album is A Maid That's Deep in Love, so this song was my introduction. At the time, I knew almost nothing about British folk. I don't even know why I picked up the album. But it soon became a favorite. Pentanlge was the quintet of Jacqui McShee on vocals, John Renbourn and Bert Jansch on vocals, guitars, and diverse insruments, Danny Thompson on stand-up bass, and Terry Cox on drums and percussion. Looking back at it, I can marvel at that lineup, but I didn't know these names at the time. (I was late to the party, by the way; this would have been in the 1980s.) Pentangle's sound was mostly acoustic, but there were drums and jazz bass, and was that a sitar? It was. This was a combination of instruments I would never have imagined, but it worked. Today, it sounds as exciting to me as it ever did.

A Maid That's Deep in Love is a variation on a motif that comes up often in British folk songs: a woman who disguises herself as a man in order to find her lost love. He is often a sailor, as in this song, and she has not heard from him. This motif comes up because the British navy had a practice for too many years of abducting young men and forcing them to join the navy. If you hear the term "press gang" in a British folk song, it refers to the groups that carried out these abductions.