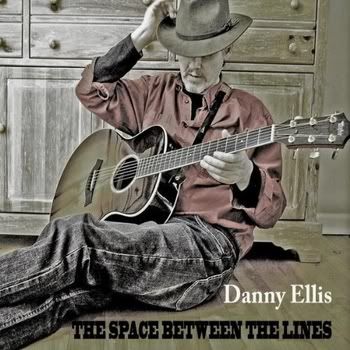 [purchase]

The Space Between the Lines is, in a sense, Danny Ellis' first album. This Tenderness, his actual debut, was a set of electronic soundscapes with trombone and a scattering of other acoustic instruments humanizing the proceedings, and helping the songs to connect emotionally. 800 Voices was Danny Ellis telling his harrowing story of growing up in the notorious Artane Industrial School in Dublin, and the music was based on traditional Irish music, leavened with other types of music that Ellis heard growing up. Having made that album, Ellis was finally free to make an album of songs that sound like himself as he is now. In the liner notes to The Space Between the Lines, Ellis describes how these new songs came pouring out of him. Lines has a consistent sound, and planned or not, there is a consistency of theme in the lyrics.

The arrangements here are spare, but they sound fuller than they are. Ellis plays acoustic guitar, and his parts are doubled and enhanced by mandolin or a hybrid of guitar and bazouki called a bazar. There also beautiful fiddle parts. On some songs, Ellis overdubs his own piano or organ parts. I am pretty sure that I also hear bass parts on most songs, but there is no bass player credited in the album notes. And that's it. In particular, there are no drums, but none are needed, because the rhythm of this music comes through just fine without them. Ellis overdubs some background vocals, and everything sounds like a band that has played together for so long that they fill in each other's part's intuitively. Ellis sings in a high tenor voice that manages to be gentle and fully emotionally invested at the same time.

I would say that the theme of these songs is first love. It's true, but the phrase carries certain connotations that do not apply here. Lines starts with the song Shine, and Ellis describes how he thought he knew what love was until he met his current love. His narrator now realizes that there was no love between his parents, so he never saw the real thing modeled by his role models. The song is a profound thank you for the gift of real love at last. The next song, Ask, is about first love in a completely different way. Here, the narrator describes a romantic encounter from when he was sixteen, in beautiful and tender language. But, at the end of the song, we find that the song is not what it appears to be. I don't want to spoil it for you, but it takes the listener to another place that seems perfectly natural when you get there. And the album continues, with similarly well crafted songs about discovering love and exploring its depths. Then, in the later part of the album, a second theme emerges: the idea of home. The "home" songs include Another Dublin, which is about the differences between how a place feels in memory and in actual fact. Ellis' narrator here goes to Dublin, hoping to experience the good things about the city of his youth, but discovers instead that that city is as gone as his youth itself. In the other "home" songs, home is as much an emotional place as a physical one, and the ideas of home and love become intertwined. This is all expressed in beautifully poetic lyrics.

My description may have made it sound like Lines has a premeditated quality, but that is not the case at all. I tend to think that Ellis was not consciously developing a theme either when writing or recording these songs. They have a feel that is completely natural and sincere. The Space Between the Lines is the sound of one man's heart speaking, beautifully.

Danny Ellis: Ask

Danny Ellis: Another Dublin

Blog business: although I hate to break the mood, I am late in congratulating Adam Sweeny and the Jamboree on the success of their Kickstarter campaign. Thank you to all who helped.