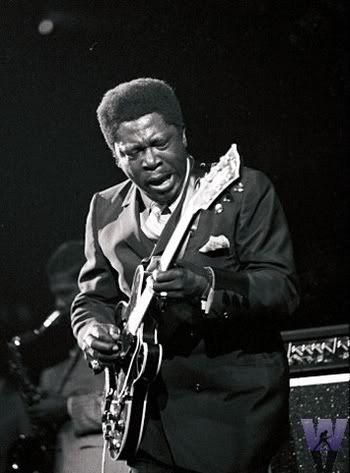 B B King: Every Day I have the Blues

[purchase]

Nowadays, there is music out there that is called R&B. Ask around, and someone will tell you that it stands for Rhythm and Blues. Don't believe them. I enjoy some of this music, although I am very particular about it. But there hasn't been any blues in R&B for many years. Listen to James Brown singing It's a Man's Man's Man's World, and you will hear blues singing, even with the heavy production. Listen to the horns on Sam and Dave songs, and you will hear jump blues lines. But nothing like that happens in modern R&B. Try it, and you get labeled a "retro artist".

For me, the key stop on the road from blues to R&B is the music of B B King. King certainly didn't invent this music, (in fact, the influence of T-Bone Walker is clear enough), but King popularized it to greater extent than anyone before him. At a time when delta blues musicians were moving north and creating the great Chicago blues sound, B B King was mixing sounds of the delta with horns and large bands. Listen to Every Day I Have the Blues, and you will hear what James Brown, Sam and Dave, and so many others were hearing as they were getting started. Later. artists like Bobby "Blue" Bland would mix these new rhythm and blues sounds, including funk, into the blues they were making, and the conversation would continue. But B B King, more than anyone else in my mind, got the conversation going in the first place.

Shameless plug: I would like to explore this topic further. I have some material for a post that looks at the road from blues to rhythm and blues, but I would like to hear from anyone who knows of musicians working with this kind of material. Please leave info in the comments, or contact me by e-mail. Thank you.

Shameless plug # 2: Some of you may have noticed the Like button for Facebook on the sidebar. This will connect you to the new Oliver di Place fan page. I intend to use that space as a supplement to what you see here, so please join me there as well.