I've never done a post like this before, and I don't know if I will ever be able to again. You see, Lara Michell is the only artist I've ever covered who not only recorded with five different groups or configurations, but also made all of that music available to me. So no favoritism is intended, but Michell has made some wonderful music in each configuration, and I would be happy to consider doing something like this with other artists if the situation were to arise.

I first heard Lara Michell singing with The Stolen Sweets when I reviewed them here. I soon found out that she also had a solo album coming out, and I reviewed that as well. That was when I learned about the other music she had made over the years. Here's how it went:



Carmina Piranha: Rosemary

[purchase]

Michell made her recording debut with her album Tide Pool in 1997. The album presents a promising singer and songwriter. Michell plays most of the instruments herself, with occasional assistance from Rob Scrivner. Erin Sutherland, a name you will hear again later, provides some background vocals. But Tide Pool feels like a demo for what would come later. Partly, that reflects advances in technology relating to home recording in the years since. But it also reflects the fact that Michell was a new artist at the time.

The following year, Lara Michell was in a group, Carmina Piranha. Their first album, Revenge Poems, was a score for a ballet production. Here, Michell wrote music to accompany Lisa Stringfield's words and lead vocals. The sound is fuller, and the arrangements are inspired. There would only be one other release from Carmina Piranha, an EP in 2001 called Lucid. I begin my survey here, rather than with Revenge Poems, because the earlier album is intended to be heard as one continuous work. By 2001, Carmina Piranha had had a lineup change, with the addition of bass player and back-up singer Nancy Hess. Hess also produced Lucid.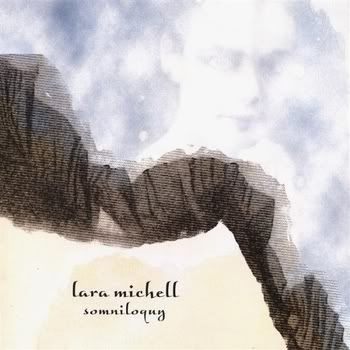 Lara Michell: Into the Dream

[purchase]

Nancy Hess also coproduced Lara Michell's next solo album, Somniloquy, with Michell. The sound here is fuller than on Michell's debut. There are more musicians helping out, but even the overdubs where Michell accompanies herself on multiple instruments have more of a band feel. In addition to Hess, Kirsten Swanson shows up on two songs, and Jason Roark on one. More on them in a moment. Nancy Hess would relocate to New York City the year after this came out, and that would be it for Carmina Piranha. A modified version, Carmina Luna, still performs occasionally in the Portland area, but they have not recorded anything.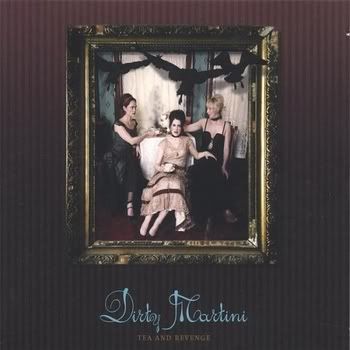 Dirty Martini: Low

[purchase]

Michell's next album came out in 2004, the year she also joined Dirty Martini. The solo album, Ruby Red, was again produced by Nancy Hess, and there are also two songs co written with Jason Roark. Lisa Stringfield sings on a song she helped write, and Skip vonKuske, who we will hear of again, plays on one song.

Dirty Martini came out of a songwriters in the round performance, featuring Lara Michell, McKinley, Lea Krueger, and Stephanie Schneiderman, (don't worry, they were all new names to me too). At the end of the evening, they decided to do more together. Each of them brought to the group songs that they had previously recorded. Krueger and McKinley's sound had been aimed toward pop audiences, while Schneiderman had been doing a kind of pop-folk with lush arrangements. To my ear, Dirty Martini's arrangements show mostly Michell's and Schneiderman's influence, and Krueger and McKinley's songs benefit greatly. However, Michell's songs gain some bite from the fuller arrangements. Dirty Martini's second album, Tea and Revenge, came out in 2006. By this time, Krueger had left the group, and the others had developed more of a group chemistry. Low comes originally from Michell's album Somniloquy, but really comes across beautifully here.

MdKinley is based in Los Angeles these days, and there have been no further albums from Dirty Martini. But the band officially still exists, and performs occasionally.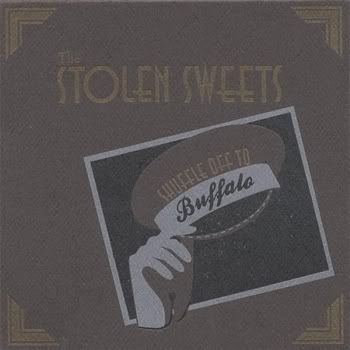 The Stolen Sweets: Charlie Two-Step

[purchase]

The Stolen Sweets were my entry point for this journey, and this is ironically the most radical departure from most of what Lara Michell does. The music is jazz, and it takes Michell to places she hasn't gone before. But she, and everyone else, sound like they are having a blast, and that is the key to making this music work. But the band does find her harmonizing with two other female singers, a hallmark of her sound. Even on her solo albums, Michell multitracks her vocals and harmonizes with herself. Here, the other singers are Erin Sutherland, who I mentioned earlier, and Jen Bernard. Pete Krebs also sings lead on some songs, with the women serving as a sort of greek chorus. Krebs is the leader of this group, and does some songwriting on their latest album. But, on this debut, the songs are all covers. The Stolen Sweets are the only project Lara Michell has done where she does not do any of the writing.

This song comes from 2006, and Skip vanKuske, who I mentioned earlier, is in the band and contributes string arrangements. The Stolen Sweets are very much an active band, and I look forward to hearing more from them in the future.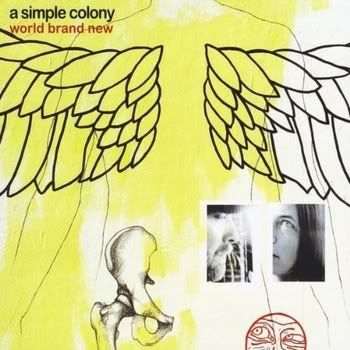 A Simple Colony: Lock in Key

[purchase]

Finally, we arrive in the present, and Michell's latest project. A Simple Colony is the duo of Lara Michell and Michael Dodson, with Skip vonKuske, (again), and Todd Bayles helping on one song each. The instrumental arrangements are stripped down to just Michell on guitar or piano on most tracks. The vocal arrangements are another matter. Dodson wrote the words and created the vocal arrangements on top of Michell's music. This harkens back to the Michell/ Stringfield partnership in Carmina Piranha. The instrumentation is even sparer than on Michell's debut album. But the affect is completely different. First of all, Dodson's vocal arrangements are amazing. His tenor and Michell's alto are close enough to blend seamlessly, forming one living, breathing, voice. Multitracking is used on the vocals only, to form a rich chorus. And Michell's composing and playing are far more assured than they were at the beginning. All of these years of interacting with other musicians has given her a great idea of how to be a band by herself The combination really works.

==============================================

So, for now, that is who Lara Michell is. I wouldn't care to guess what she will do next, but I will probably enjoy finding out. There is a good chance that some of her old and new friends will be on hand. And they are certainly a talented bunch. And it seems likely that Michell's talent will only continue to grow.